Click Image for Full Size/Slideshow
The Dark Knight Rises is what happens when a confident director speaks (or rather, shows) his whole mind. A whatever-sticks-to-the-wall approach to storytelling from an artist who's arsenal is mostly made up eloquent ideas. What results is a gigantic monolith of a film, thematically poignant, emotionally resonant, and narratively satisfying.
By the same accord, however, TDKR is a tad bloated. Such is what you would expect when one person both co-writes and directs a film. There are a glut of characters, and while most are interesting, a few important characters are merely shadows of Nolan's vision, without context. For the all screen sharing time to go around, Christian Bale, Anne Hathaway and Joseph Gordan-Levitt's performances are stellar; especially Hathaway, who I was convinced would sink into the overwrought camp of the Catwomen of olde. I was very wrong.
What Nolan does well in TDKR is focus on the most recalcitrant character of them all, Gotham City. While always the one worth fighting for, Gotham's narrative arc is slow and careful; never outright changing its mood and struggling to stay sane.
And struggle they do. At a whopping run-time of 165 minutes, the plot is laid on thick. Crises are met with bigger crises until the scale of hopelessness becomes almost overwhelmingly bleak.
As a piece of the trilogy, it is an anomaly.
The biggest triumph of Nolan's Batman saga is
perhaps
also the biggest flaw to some: a grand scale. What results is an odd
inconsistency
between
the films.
The Dark Knight Rises is largely not The Dark Knight (2008), nor Batman Begins (2005); not tonally, not aesthetically...but it still manages to triumphs as a stand alone film.
The Dark Knight was framed around the Joker.
As such, Wayne's himself didn't have an arc; his perils felt merely like collateral damage to the Joker's ploys. In this respect, TDKR is the opposite, where this time around the film is largely centered on Bruce Wayne himself, making TDKR more of a Batman story.
The core of Nolan's works however, remain intact. The themes of fear, loss, redemption and moral inscrutability permeate through both sides of the conflict, throughout all three films, until reaching one of the most satisfying movie - and trilogy - endings in recent memory.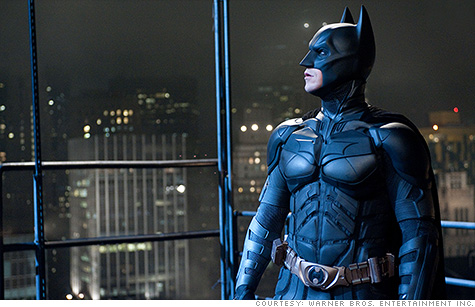 This is, admittedly, an awful amount of pretense for a movie about a man who runs around a cartoonishly heartless city, beating up criminals; but thats kind of the point of a movie like this.
Nolan's appropriation of this versatile property leaving you in awe, makes you reflect, feel silly for awing, and return to more grounded film with it always in the back of your mind for reference.
And with that, he has pulled some sort of elaborate, yet compelling, joke on film-goers, that makes us all believers in the power of stories.
A saga complete with a myth told, mercilessly, The Dark Knight Rises is bound to be this summer's most revered blockbuster.